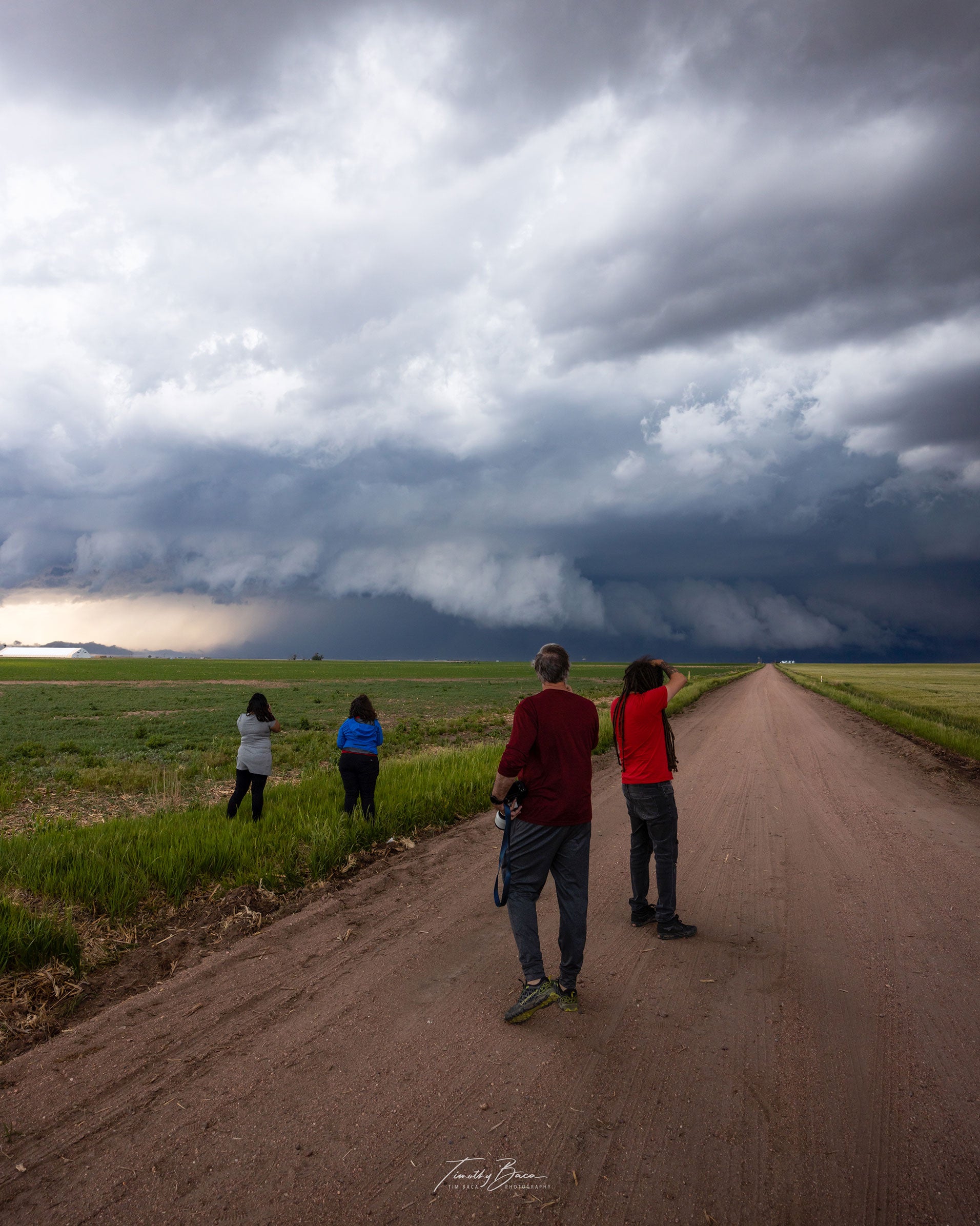 Instruction Style
Extreme Photo Workshops is not your average photography workshop. Storm photography is fast-paced and chaotic since our subject is always moving and changing.
To be successful, clients should be comfortable with their cameras, tripod and other gear; understand how to shoot in manual; and know the basics of how ISO, aperture, and shutter speed work together.
During the workshop, our pros will help you determine the best settings for the scene, point out interesting compositional elements, educate you about forecasting and photographing storm structure, and be available to answer questions. We believe our clients learn best through experience and with the creative freedom to capture your own unique images. 
This is not a workshop where an instructor will set up your camera, adjust your settings, frame your shot, and do everything but click the shutter. 
Ultimately our goal is to equip you with the skills, knowledge and confidence to photograph on your own and with minimal instruction.
Daily Schedule
The itinerary will depend on severe weather and each day's chase setup. There is no set or planned schedule for every day. We make our decisions based on real-time forecasting and meteorological data which can change quickly. It's normal to travel 100 miles or more during a single chase. Clients should be prepared to drive long distances and spend many hours in the vehicle as we search for the most stunning supercells. Since we go where the severe weather risk is greatest, one day we might be in Texas and the next day traveling to South Dakota.
Storms normally fire in the late afternoon or early evening, and we will often chase into the night. Expect late-night arrivals to hotels (sometimes after midnight) and early wake-up calls depending on our driving distance and the next day's forecast. Meal times may also be irregular due to the unpredictable nature of storm chasing and fast food is often the only option available when a chase is finished. Sometimes a meal may look like picking up something quick at a gas station.
Storm chasing involves a lot of waiting before storms mature and the chase begins. We arrive at target locations a few hours before storms fire to ensure the best positioning. During downtime, we will try our best to find entertaining things to do. However, most chases happen in rural parts of the country. We encourage all clients to bring a laptop or tablet, books, headphones, etc. for entertainment.
Accommodations
Vehicle
Travel is in a roomy eight-person SUV with no more than six people in the vehicle throughout the duration of the workshop. There are plenty of USB ports for charging phones and we also supply a power strip to charge other devices. Luggage size is restricted to one carry-on sized bag and one camera bag to ensure all luggage and gear fits in the SUV.
Hotels
We book lodging at mid-range hotels determined by Hotels.com ratings of an 8.0 or higher. Due to the unpredictable nature of chasing, we may end our night in rural towns with limited hotel options or may need to travel farther to find a hotel if there are no rooms available. Very rarely are hotels booked in advance since our chase will determine our end-of-day location. We will make all lodging decisions and reservations when the chase is over.
"Severe Clear" Plans
Our workshop depends on climatological patterns and the atmosphere. We plan our workshops during the most historically active weeks for severe weather, but occasionally the large-scale pattern can become unfavorable for frequent supercells.
On days where no storms are expected we will explore other types of photography including landscape and astro or find recreational activities in different areas. We may also use this time for image reviews and post-processing sessions.
We often find ourselves in the vicinity of many beautiful national parks and have visited Badlands National Park in South Dakota, Devil's Tower in Wyoming, White Sands National Park in New Mexico, and more.